NEW PALTZ: MOUNTAINSIDE MOSAIC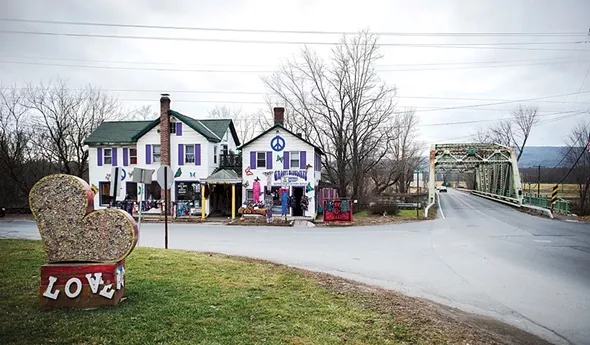 Christine Ashburn
Groovy Blueberry Clothing Company and the Carmine Liberta Bridge
The Village of New Paltz Centennial Yearbook, published in 1987, celebrates "100 Years of Community Life" with black-and-white photographs, a narrated timeline of major events, and ads from local businesses that are so simplistically rendered they seem alien to a graphic-design-adjusted eye. The book shows New Paltzonians in the late 19th century awaiting the completion of the Wallkill Valley Railroad and accompanying station—a station that eventually became La Stazione, where New Paltzonians of today go for a fettuccine fix. It lists the names of the village's first settlers: Deyo, Crispell, DuBois, LeFevre, Bevier—names that have been immortalized as the addresses of newly untethered college freshman. There are grainy photos of hotels-turned-apartment-buildings, bars-turned-pizza-places, and police-stations-turned-storefronts. But despite the many changes—from 1887 to 1987, from 1987 to today—there remains a pervasive familiarity to it all. Even when staring the village's evolution in the face, New Paltz still just feels like New Paltz.
New Paltzonians of today, take heed, because the village of many faces is on the brink of yet another makeover. "We're at an interesting tipping point," says New Paltz Mayor Tim Rogers, who grew up in New Paltz and has served in various elected positions leading up to his mayoral win this past May. "We have to be careful about getting it right." Anyone who has walked down the village's indelible Main Street in the past few months has gotten a taste of it: Many beloved New Paltz establishments are no more—Barnaby's, Earth Goods, Suruchi Indian Restaurant, and Yanni's, to name a few.
In a place like New Paltz, though, it doesn't take long to fill such vacated premises. The village attracts a mix of college eats, like Mexican Kitchen's unfussy and dependable south-of-the-border fare on North Front Street, and date-night dining, like End Cut, a new French-Italian fusion restaurant in the former Suruchi location. The long-vacant building that previously housed Naomi's Café on Church Street was reinvigorated last month by the opening of Huckleberry, a hip cocktail bar run by Brooklyn transplant Julie Dabbs. The inviting two-story space is roomy enough to invite a big group of friends but cozy enough to feel intimate, and the fun décor (glass-doorknob tap handles!), creative pub food, and impressive board-game collection makes for a refreshing retreat from the college town's beer towers and bar crawls.
Christine Ashburn
The back porch at Jar'd wine bar at the Water Street Market.
Despite some new names and faces, New Paltz is still anchored by its long-standing businesses. In fact, in an age when streaming content reigns, New Paltz is home to two bookstores and two record stores, all harmoniously located within a stone's-throw radius. But even some of these entrenched businesses are experimenting with different approaches. Main Street's two yoga houses, Ashtanga and Jai Ma, which coexisted side-by-side for over 10 years, merged this past summer into YogAlive. "Expanding the yoga room and bringing the two communities together just made sense," says Michael Stein, who opened Ashtanga Yoga of New Paltz in 2001. "It allows us to offer much more than we did before." Other New Paltz cornerstones are working to maintain their edge amid the changing faces. Bacchus, a go-to watering hole for New Paltzers of all stripes, has been defined by change over its 40+ years of business. "Being open to new ideas is huge," says owner Linda Bradford. In addition to the building's colorful past—with uses ranging from Chinese laundry to taxi station to barber shop to porno photography studio—Bacchus itself has evolved considerably, growing from a one-story bar in 1974 to a two-story Mexican restaurant by the early '80s. In the '90s, Bacchus presaged the craft beer boom by becoming one of the first beer bars in the area (first offering 99 bottles and growing to a list of up to 500); in 2005, it incorporated the billiard hall; and in 2013, Bacchus opened its own brewery, which has seen much-deserved success in its few short years of existence. (At the time this article was written, The Brewery at Bacchus was rated the #1 brewery in New York State on Untappd, a social sharing app for beer enthusiasts.)
If Main Street is New Paltz's heart, then the university is its head, and times are a-changin' there as well. Most notably, SUNY New Paltz is in the throes of a metamorphosis from a primarily liberal arts college into a STEM-oriented school. Dan Freedman, dean of the School of Science and Engineering and director of its Hudson Valley Advanced Manufacturing Center, says the number of students in science and engineering has grown by 75 percent over the past five years. Since 2014, when the college began offering use of 30 3D printers, SUNY has grown into an advanced manufacturing hub for the region, with nearly 100 commercial clients, short courses in 3D printing open to the general public, and the inauguration this past November of the first-ever Additive New York thing (ANYthing) Conference, which highlights the industry's cross-discipline impact. In 2014, SUNY New Paltz was awarded a $10 million state grant to help establish an Engineering Innovation Hub at the college—a project that is expected to generate $75 million in new economic impact.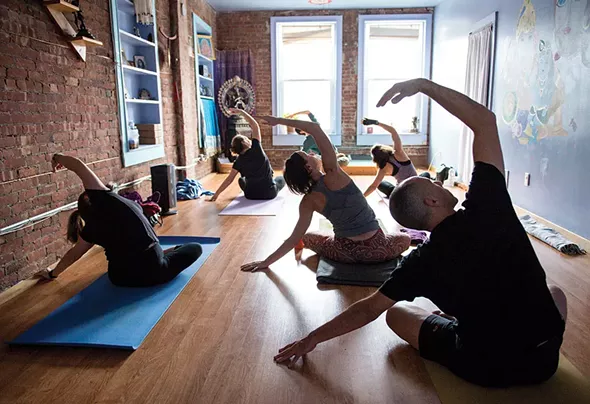 Christine Ashburn
Class at YogAlive
From Main Street turnover to SUNY expansion—as well as other major development projects that are coming down the pike, including a luxury resort and waterpark that's been proposed for a property just off the Thruway exit—New Paltz is in a heightened state of transition. But amid all of this excitement, it's important to remember what makes this place so distinctive. "We have this unique proximity to New York City, but we also have this rural open space that people want to live amongst," says Mayor Rogers. From the more than 23,000 acres of protected land in Minnewaska State Park to the 200 acres of open space in the Mill Brook Preserve just north of the village, the draw of New Paltz's portals to the natural world cannot be overstated. "Even if you wanted to maintain New Paltz's small-town rural feel and prevent any growth whatsoever," Rogers says, "you would not be able to—the attraction to this ridge is too great." And projects are in motion that will create even more access to New Paltz's open space, like property and trail improvements planned for Mohonk Preserve's foothills and the River-to-Ridge Project, which will create continuous walking access from the rail trail in the heart of the village all the way up the mountain. "We want to continue to protect and preserve our walkable Main Street and all the reasons why people are choosing to be here," says Rogers, "but not end up with so much growth and congestion that we forfeit the charm and community character that we cherish. It's a balancing act."
And while local officials continue to monitor this balancing act, there are some things about New Paltz that will never change, no matter the day-to-day transformations—like the sprawling Shawangunk Ridge that provides a stunning backdrop for even the most ordinary of errands, and the steadfast outline of Skytop Tower that fixes our attention on ever-greater heights. The feeling that New Paltz inspires is not one that can be easily conveyed through words, or 100-year-old photographs, or the admirable visions of the people who keep the village vibrant and full. Instead, it's communicated only in certain unorchestrated moments when the wind hits just right, and the university clock strikes as the sun dips down behind the mountain, and people begin to gather for some party or parade or protest, and it may be 2016 or 1916 or any time at all.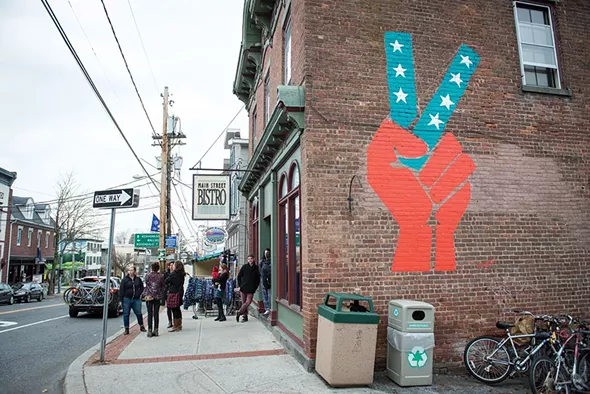 Christine Ashburn
The view down Main Street from outside the iconic Main Street Bistro
Ten Things to Know About New Paltz
New Paltz's name originates from a region of Germany called Die Pfalz, which is where the French Huguenots who would eventually settle New Paltz escaped to avoid religious persecution in the 17th century.
Huguenot Street's seven stone houses and accompanying structures were built in the early 18th century by Huguenot settlers, and remain in their original village setting. The site is one of the oldest continuously inhabited settlements in the country, and the street was designated a National Historic Landmark in 1960.
SUNY New Paltz was founded in 1828 as the New Paltz Classical School, which became the State Teachers College at New Paltz in 1938. The first graduating class was in 1942 with 112 students. Since then, SUNY New Paltz has grown exponentially, and consistently ranks high among the nation's top public colleges by a variety of esteemed publications, including the Princeton Review and US News & World Report. In 2012, it was reported that New Paltz had received the most student applications out of all of the schools in the SUNY system for 23 consecutive years.
Notable SUNY New Paltz alumni range from James Dolan, CEO of Cablevision and chairman of Madison Square Garden, to critically acclaimed actor John Turturro to Malcolm X's daughter, Ilyasah Shabazz, to famous wine educator Kevin Zraly, founder of the Windows on the World Wine School.
New Paltz hosts dozens of parades and celebrations throughout the year, including a Halloween parade, New Paltz Pride March and Festival, and the New Paltz Regatta, where a procession of homemade boats parade down Main Street before their makers take part in a race on the Wallkill River.
Christine Ashburn
Michael Lutomski and Laura McLaughlin at Huckleberry's
New Paltz's outdoors sensibility is embodied by the abundance of running races held throughout the year, including The Survival of the Shawangunks, a 50.5-mile long triathlon held every September that features eight transitions, including a 1,000-foot climb to the finish line.
Widely recognized as some of the best rock climbing on the East Coast, the Shawangunk Mountain Ridge attracts climbers from around the country and world. Writing for National Geographic in 2005, Cliff Ransom stated, "For the past 70 years, the Gunks have been a hallowed name among rockhounds, a sort of Yosemite East, with more routes (1,200 or so) than any single location sunrise-side of the Mississippi."
The Village of New Paltz is home to nearly 7,000 residents, but the tourist destination attracts almost 30 times that number of people in visitors annually, with well over 200,000 people coming to New Paltz each year. Proposed development projects, like the Wildberry Lodge indoor water park resort and an $80-million boutique hotel and condominium complex that's being considered for the heart of the village, if completed, will contribute to even higher visitation rates in years to come.
In the 1.8-square-mile area that makes up the Village of New Paltz, there are approximately 54 eateries (not counting chain fast-food joints). This number includes seven pizzerias.
Former Village of New Paltz mayor Jason West risked criminal prosecution and made national headlines when he married 25 same-sex couples in front of the New Paltz Village Hall on February 27, 2004.
REPOSTING: http://www.chronogram.com/hudsonvalley/new-paltz-mountainside-mosaic/Content?oid=2345273